IMPORTANT – The services utilized in this tutorial are no longer offered to Zoho free account users. You will need to upgrade to a paid Zoho account in order to use this tutorial.
When running websites on Google Cloud Platform, it's important to have a custom email address for your domain name.
In this tutorial, you will learn how to use the Zoho mail client to manage custom email accounts for your Google Cloud Platform websites.
Having custom email addresses is a great way to improve the professional appearance of your website.
This is part one of a two-part tutorial on how to configure FREE domain name email using Zoho and Gmail, to avoid having to pay for Google's G Suite email service. View part two of this tutorial here.
Before getting started with this tutorial, you should have already configured a domain name for your website on Google Cloud Platform.
Why use custom email addresses?
There are many reasons why it's important to have domain-name specific email addresses for you website.
If you're running an online business, customers expect that domain-name specific email addresses will be used by your organization's staff, as this reflects a certain level of professionalism.
Additionally, having domain-name specific email addresses for your websites administrators implies greater credibility. For example: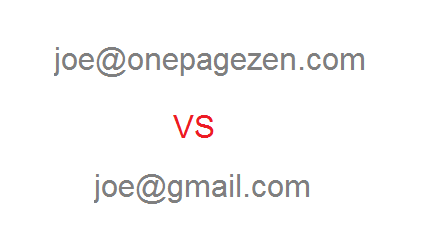 In my case specifically, using the the email address joe@onepagezen.com instead of joe@gmail.com, immediately establishes that I am associated with One Page Zen.
Why use Zoho Mail?
With so many mail clients to choose from, why use Zoho?
The reason I use Zoho in this tutorial is because it is arguably the best free email client alternative to GSuite.
The great thing about Zoho is that it offers most of the features of GSuite without the $5 monthly fee.
Not only that – it's easy to set up.
Disclaimer
I am in no way associated with Zoho Corporation and I do not receive any form of compensation, monetary or otherwise, for recommending their services.
Please leave questions and comments for this tutorial below!