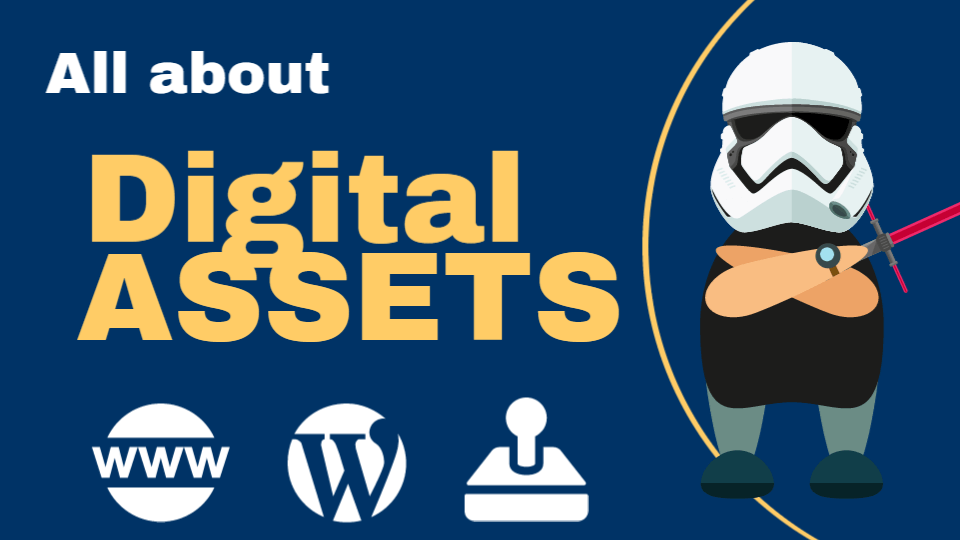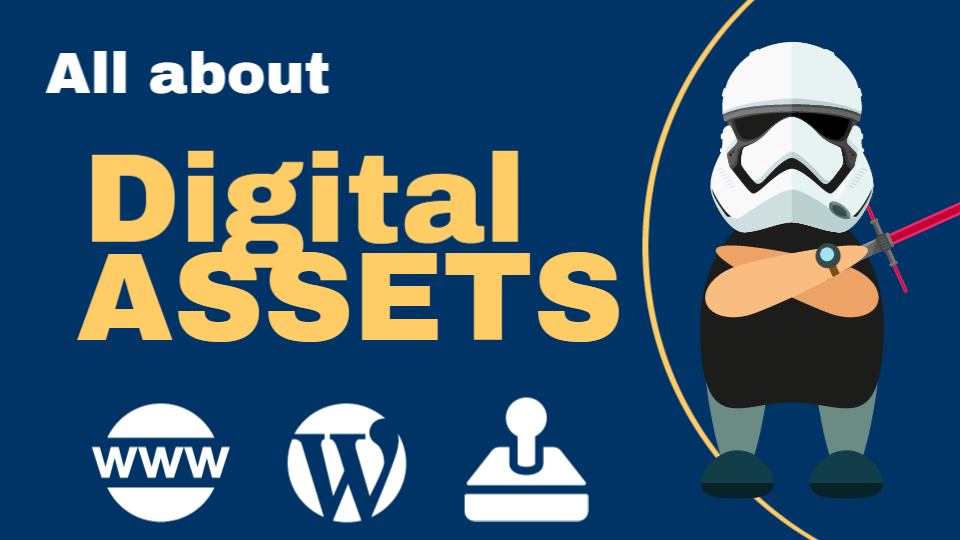 When you think of investments, you probably think of real-estate, stocks, bonds, and gold. Chances are you're new to the increasingly popular class of investments know as digital assets.
In this article, you will learn:
1. Introduction to Digital Assets
Digital assets are binary (computer-based) assets that increases in value over time. Digital assets are not "mainstream" yet, and digital asset brokers have only started becoming prominent over the last five or six years. The most popular types of digital assets include:
Websites and Blogs (LifeHacker.com earns over $270,000/month)
Domain Names (www.cats.com is currently bidding at $120,000)
Applications (think Candy Crush, which earns over $1,457,332 daily).
There are also less common types of digital assets. Did you know that email, Facebook, and Twitter accounts are also considered digital assets? Think about it: endorsing a product or service through a Twitter account with millions of followers can generate a huge amount of leads. For this reason, social media accounts with large followings are very valuable.
2. Benefits of Investing in Digital Assets
Although digital assets are a relatively new form of investment, they have many benefits over traditional assets classes, mostly involving their massive scalability and accessibility. The primary reasons why people choose digital assets over traditional asset classes is because:
Creating a digital asset requires little upfront cost: The fact that you can start a profitable website or buy a few domains for under $50 is one of the reasons why digital assets are so appealing. Many websites such as PerezHilton.com or NomadicMatt.com started out as simple blogs, and now generate thousands of dollars in daily revenue.
Digital assets can be managed from anywhere: If your job requires you to get out of bed and drive to work everyday, then you know why the idea of working from a beach in Thailand sounds so appealing. The great thing about digital assets is that they can be managed from virtually anyplace that has a reliable internet connection.
With digital assets, the internet becomes your market: In 2016, there were 3.2 billion internet users worldwide, and that number is expected to increase to over 4 billion by 2020. What this means is that the internet is growing, and quickly. Now is the perfect time to either purchase established digital assets, or to create your own.
3. How to Invest in Digital Assets
Despite the increasing popularity of digital assets, there are only a handful of marketplaces where you can buy and sell websites, domains, and applications. The most popular ways of exchanging digital assets are:
Digital Asset Marketplaces: The most popular digital asset marketplace is Flippa. Here you can purchase and sell domain names, established and starter websites, as well as applications. Other less established digital asset marketplaces include eBay and Empire Flippers.
Website Brokers: Think of a stock broker for websites. These companies act as middlemen to help you purchase websites (minimum budget $20,000), and charge a commission in exchange for their services. Examples include Acquisition Station and FE International.
Online Forums – Another way to buy and sell websites is by checking out the online forums of popular community-based websites. Popular forums for buying and selling websites include Warrior Forum and Web Master Sun.
Download the Cheat Sheet: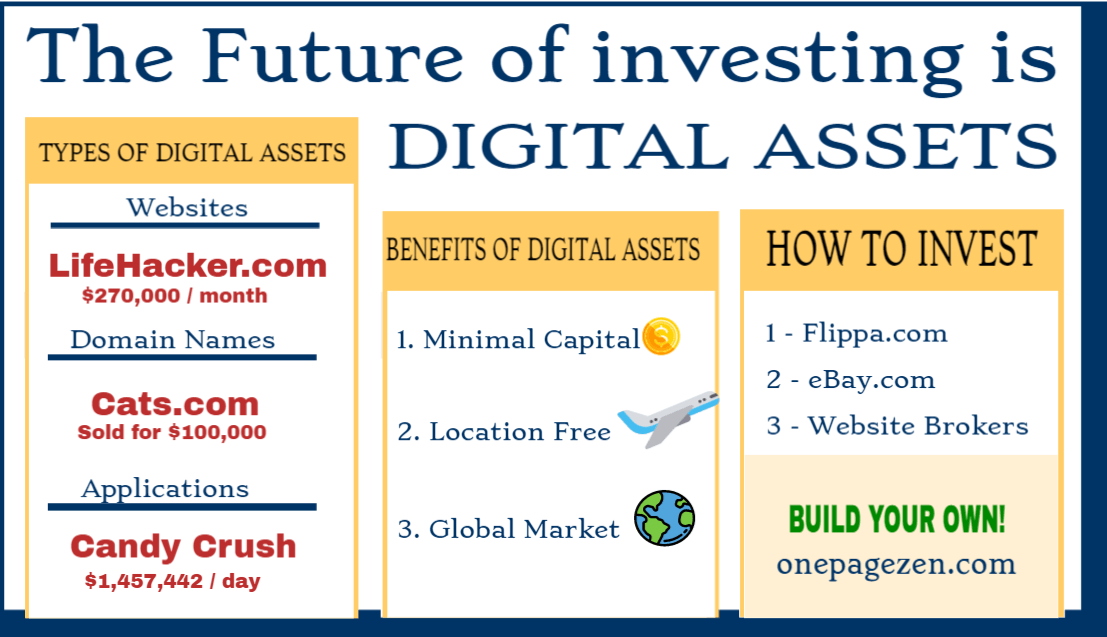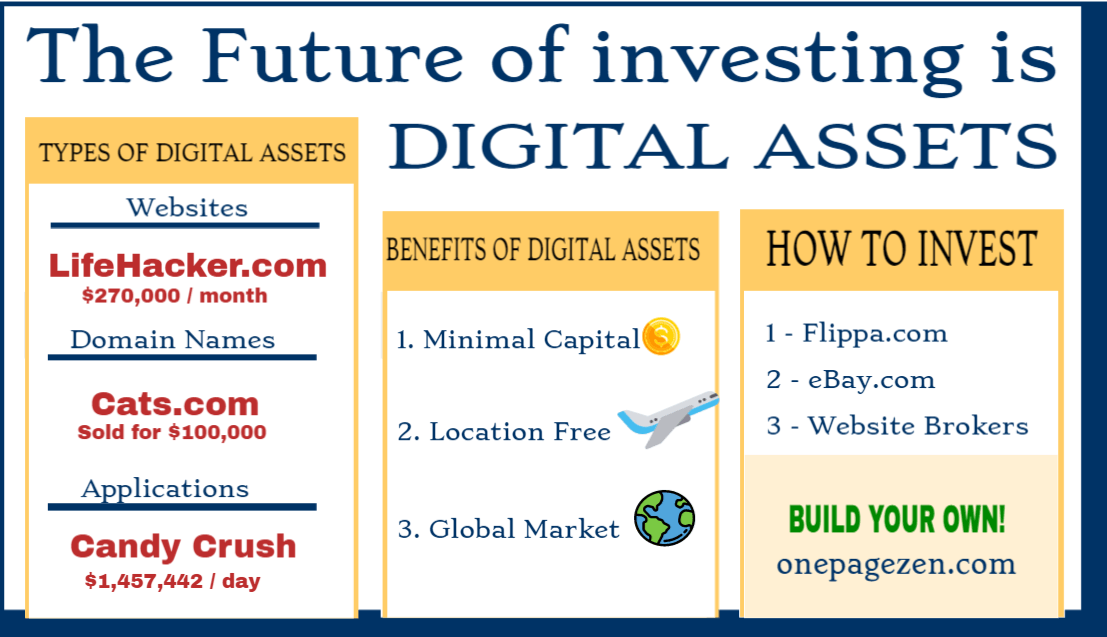 Ready do get started?
Get started investing by learning how to evaluate the value of websites.