WordPress on Google Cloud Setup
Full Migration Service | Offer Expires 01/2019 | Total Cost: $149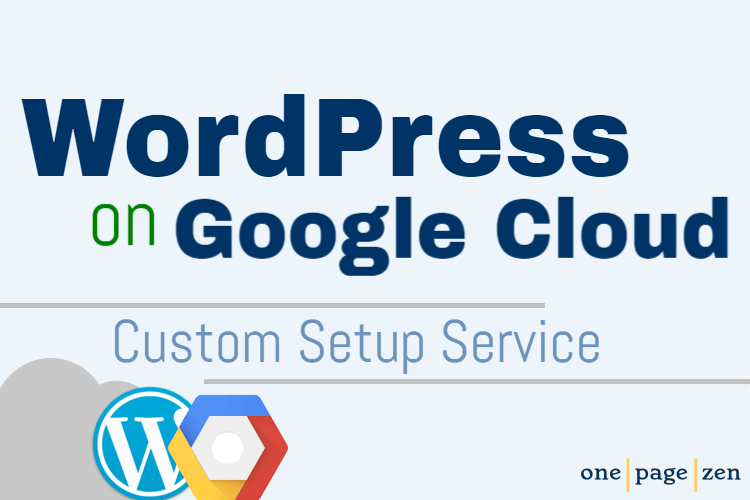 Service Description
Ready to host WordPress on the world's most advanced cloud network? Have your WordPress website professionally installed on Google Cloud Platform.
Learn More:
2 Which services are included?
1 Process
---
Step 1 | PLAN
After you've filled out the contact form below, you will be contacted by email to discuss the project details.
Step 2 | BUILD
Once project details are finalized, a blueprint of your project will be drawn up and work on the project will start.
Step 3 | DEPLOY
Finished project details will be sent to you via email, with projects typically delivered within 1 business day.
2 Services Included
---

1 | WordPress Installation
Your WordPress website is deployed on Google Cloud in a virtual machine instance. Learn more about this process.

2 | Domain Name Setup
Your domain name is integrated with your WordPress website using Google Cloud DNS. Learn more about this process.

3 | CDN Configuration
Your content is configured to be served through Google's massive cloud network. Learn more about Google's network.

4 | SSL Certificate Setup
Your WordPress website is configured with free, auto-renewing SSL certificates. Learn more about this process.
3 Sample Pricing
---

Small Websites
Value performance model for small WordPress websites (less than 5,000 pageviews/day). Hardware can be modified upon request.
CPU | 1 shared vCPU: 0.6 GB
DISK | Hard disk drive (HDD): 10GB
COST | $6.00 USD (Monthly Est.)

Large Websites
High-peformance model for large WordPress websites or Multisite configurations. Hardware can be modified upon request.
CPU | 1 vCPU: 4 GB
DISK | Solid State Drive (SSD): 40GB
COST | $32.00 USD (Monthly Est.)